According to the statistics, men get better with age... I actually do agree with this... Your dating pool actually GROWS until middle age! An 18 yr old's dating range is 18-22, whereas a 30 yr old's might be 22-46.
There you have it. We, women, sour with age, like curdled milk! :(
I apologize to the women if that was a bit hate to swallow, have some laughs, on the house!
No one wants some one so choosy they require a special chef to cook their every meal, and needs a waiter with a thick wad of paper to take down their order... even if you are an
anaphylaxic
,
you aren't a a prince/princess!
... but do bring you epipen along everywhere! Dying on your date isn't sexy... and definitely won't guarantee you a second date...
On the first date, the best expectation is to have none.
INTERNET DATING can be fun, but try not to ever miscommunicate...
The risks of internet dating...
Also, try not to see an ex's good friend... things get very complicated...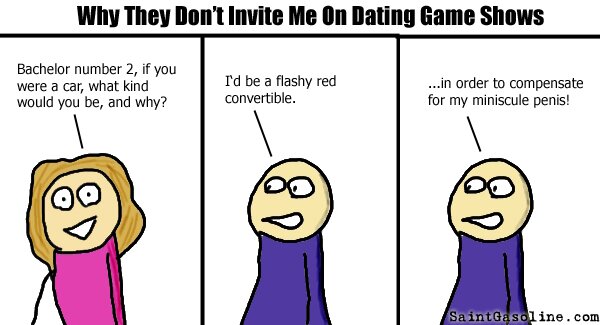 Lastly, always be honest, but do not discuss things to do with your (little) digit... pun unintended.